Authentic Chole masala made with pre-measured Indian spices and blends
More Info

Chana Masala, also called Chole, is a popular North Indian dish that warms your belly on a cold winter day! My mom learned to cook this from other Indian military wives when my Dad was stationed in North Indian bases.
Prep time: 15 mins; Cook time: 30 mins; Serves 4

INGREDIENTS TO MAKE CHANA MASALA:
Cooking oil - 2 Tbsp
Finely chopped onions - 1.5 cups
Diced tomatoes - 2 cups
Ginger - 2"
Garlic - 4-6 cloves

Flavor Temptations

 C

hana Masala Spice Mix (contains 4 Flavor Blends) - 1

Canned chickpeas (washed and drained) - 2 cans

Water (enough to cover chickpeas) - 2 cups
Salt to taste -1-2 tsp

Chopped cilantro - 6-8 stems (optional)
STEPS TO MAKE CHANA MASALA:
Heat oil in 12" skillet on medium heat, add Blend #1(Cumin Seeds) and step back to allow seeds to burst and sizzle, releasing their flavors
Add onions and cook until onions are soft and transparent
Add ginger and garlic, cook for 1 minute
Add Blend #2(Turmeric powder, Coriander powder and Cumin powder) and cook for 3-4 minutes, releasing fragrant aromas
Add Blend #3(Cayenne) according to preferred spice level:
(Hot: add all of it; Medium: add half of it; Mild: do not add any)
Add tomatoes and cook on medium heat for 6-8 minutes until tomatoes are soft and oil separates
Add Chickpeas, salt, and enough water to cover the beans
Cook covered 10-12 minutes on medium heat, until beans are soft. Squish a few of the beans to help thicken the sauce
Stir in Blend #4(Garam Masala). Uncover and simmer on low heat until sauce thickens to salsa consistency
Garnish with chopped cilantro (optional)
 SERVING SUGGESTIONS FOR CHANA MASALA:
Serve hot over bed of long-grained or naan bread
Want a shortcut?  Chana masala recipe using Curry Sauce is an ideal solution for you!
Share
Dairy free

Contains no dairy products
View full details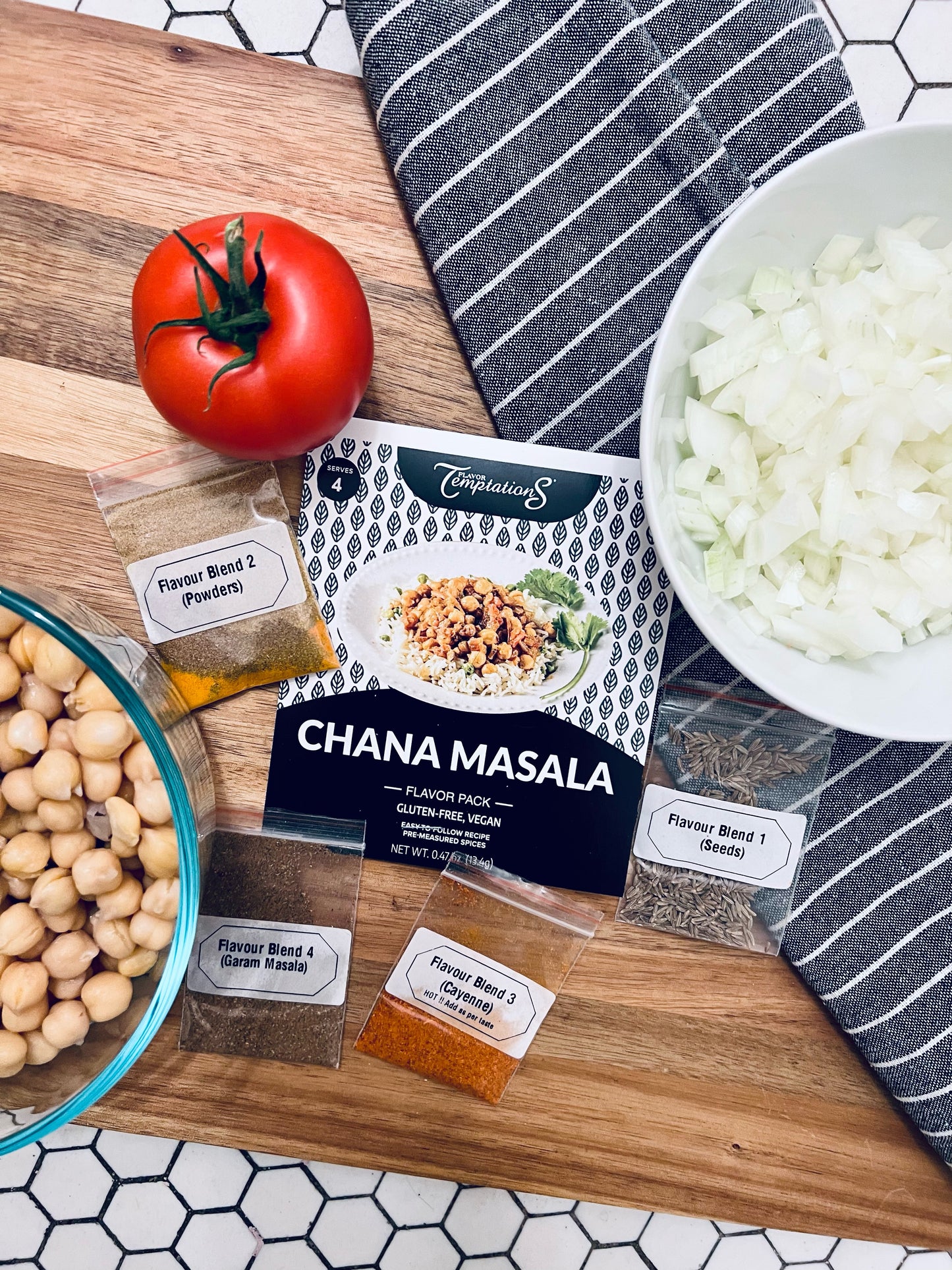 FAQs
How authentic is this recipe?

All our recipes are authentic and traditional family recipes passed along by my Mom.
Can I use Curry powder instead of individual spice blends?

Technically, you could use Curry powder or a common spice mix. However, this would not provide the authentic taste of traditional spice layering technique that is unique to Indian cooking
Can this recipe be made with meat?

Sure! Simply replace beans or veggies with cooked meat of your choice