Two DIY Butter Chicken Seasoning Packets | Five spice blends in each
Regular price
Sale price
$14.99
Unit price
per
Sale
Sold out
DESCRIPTION:
This dry spice mix makes delicious Butter Chicken Makhani where chunks of chicken are marinated with aromatic spices and simmered in creamy onion-tomato sauce. Serve this popular Indian curry with basmati rice or naan bread.
COOK INDIAN CHICKEN MAKHANI WITH CONFIDENCE – Easy to prepare, no fuss cooking! Each spice mix packet has spice blends to layer with your ingredients. Cooks in under 30 minutes.
MOM'S EASY TO COOK CHICKEN RECIPE, DAD'S DREAM | My late Dad dreamed of sharing my Mom's authentic Indian recipes with the world. My Mom's

recipe on this packet teaches how to make this delicious Indian curry using this spice mix

.
BURSTING WITH CURRY FLAVOR - This Butter Chicken spice mix teaches you how to layer spices like an Indian cook. Brings joy and energy into your kitchen with an Indian curry that's bursting with flavor!
CUSTOMIZE YOUR SPICE LEVEL- This popular chicken recipe has been used by Indian moms for generations. You choose your spice level. We pack red cayenne pepper in a separate bag so you can choose from "Gimme that heat" to "Just a pinch, please!"
ALL NATURAL INGREDIENTS - Flavor Temptations imports fresh spices from Indian farms.

Ingredients are natural, organic, vegan, gluten free, salt free, sugar free, non-GMO, no MSG, with no artificial colorings or flavors

.

AUTHENTIC SPICE MIX CONTAINS - Five spice blends packed in individual bags for best cooking experience.
NOTE: Fresh ingredients not included.
Here is the recipe that uses this spice mix: Butter Chicken recipe using Spice Mix 
Want a shortcut?  Butter Chicken recipe using Curry Sauce is an ideal solution for you!
ORGANIC INGREDIENTS

Cumin seeds, Turmeric powder, Coriander powder, Cumin powder, Cayenne Pepper, Bay leaves, Black peppercorns, Green cardamom, Cloves, Cinnamon, Coriander seeds
FUN FACT

Butter Chicken is also called Chicken Makhani. 'Makhani' means 'butter' in Hindi. This is a popular Northern Indian dish and found on many Indian restaurant menus
Share
View full details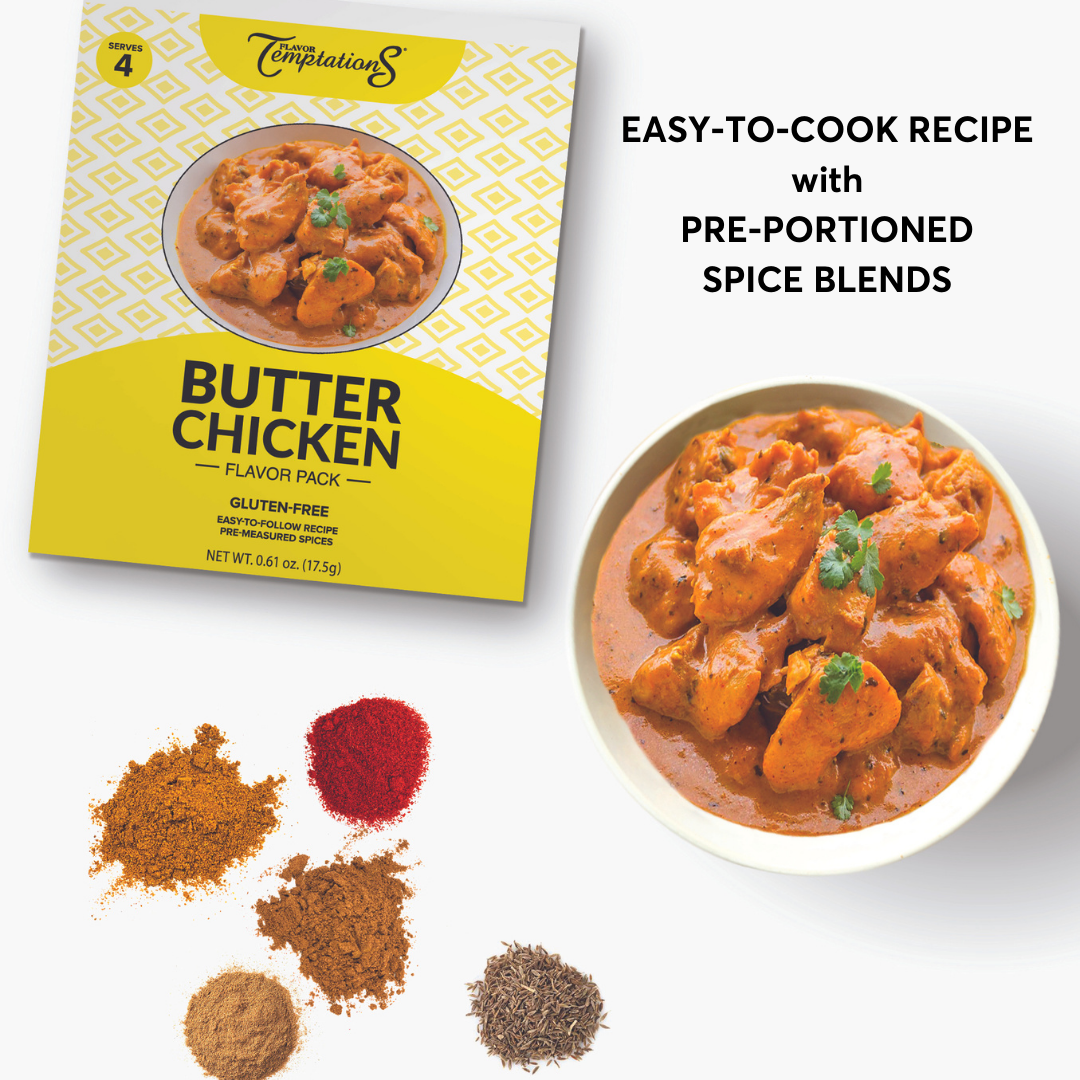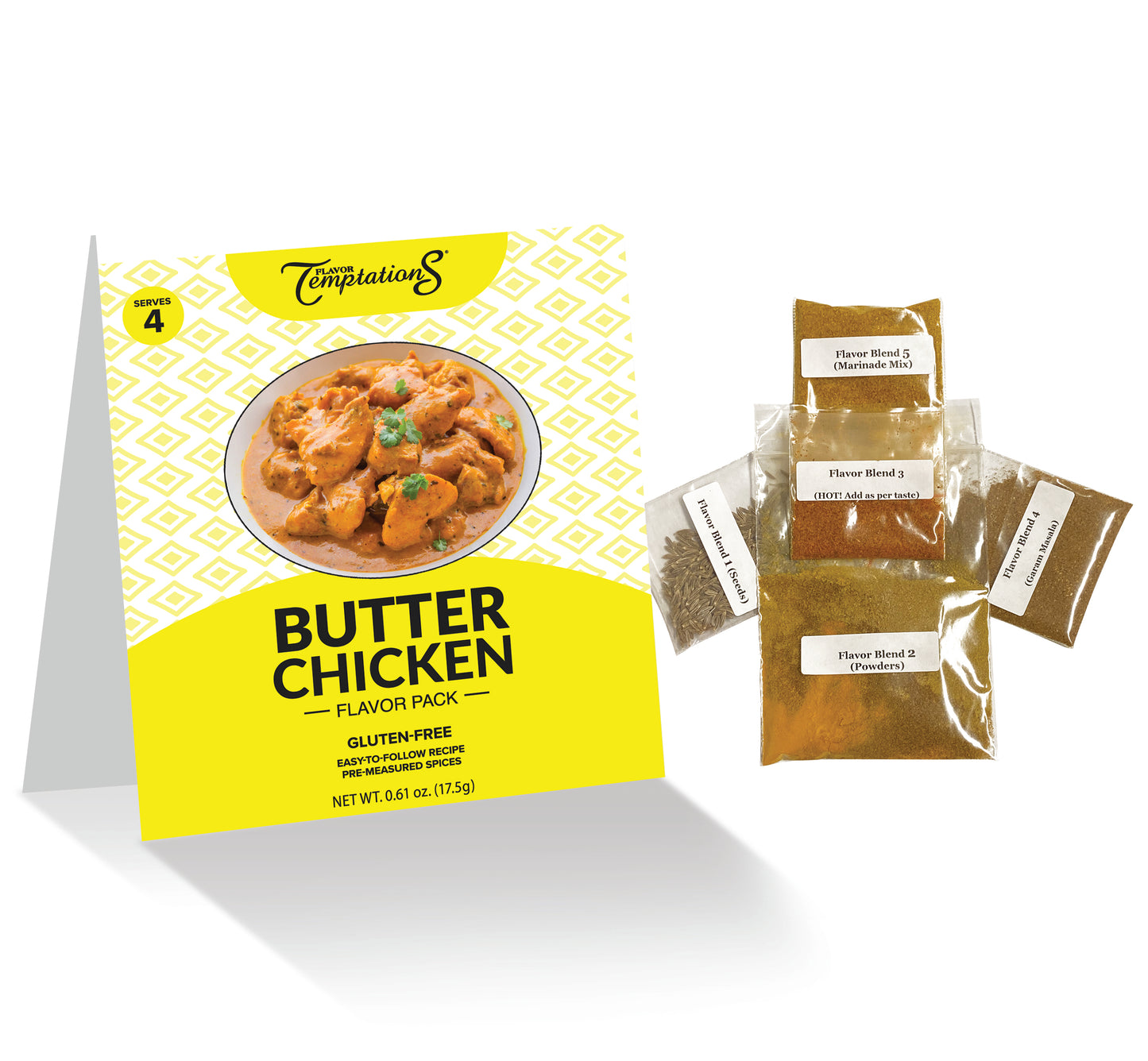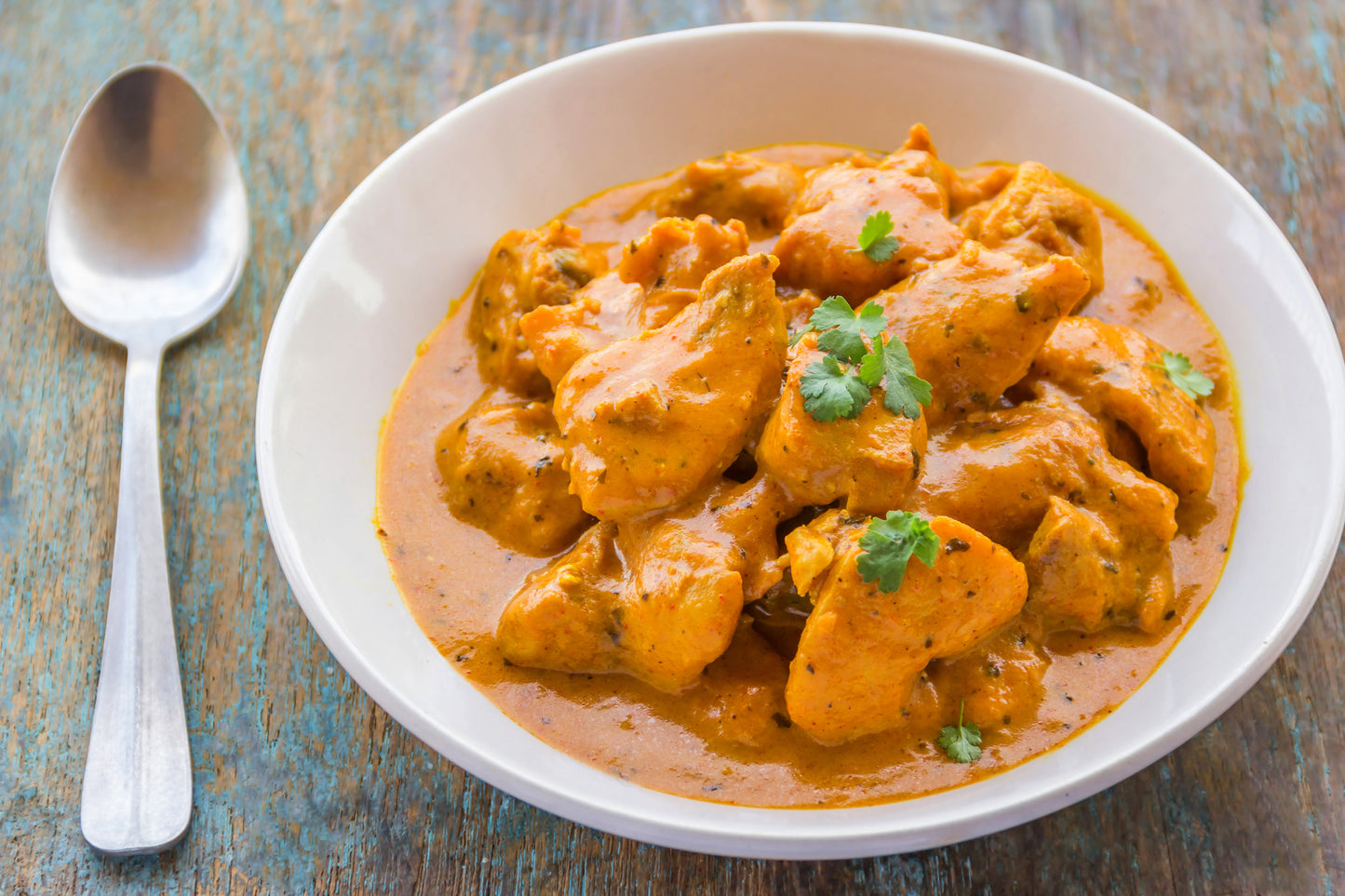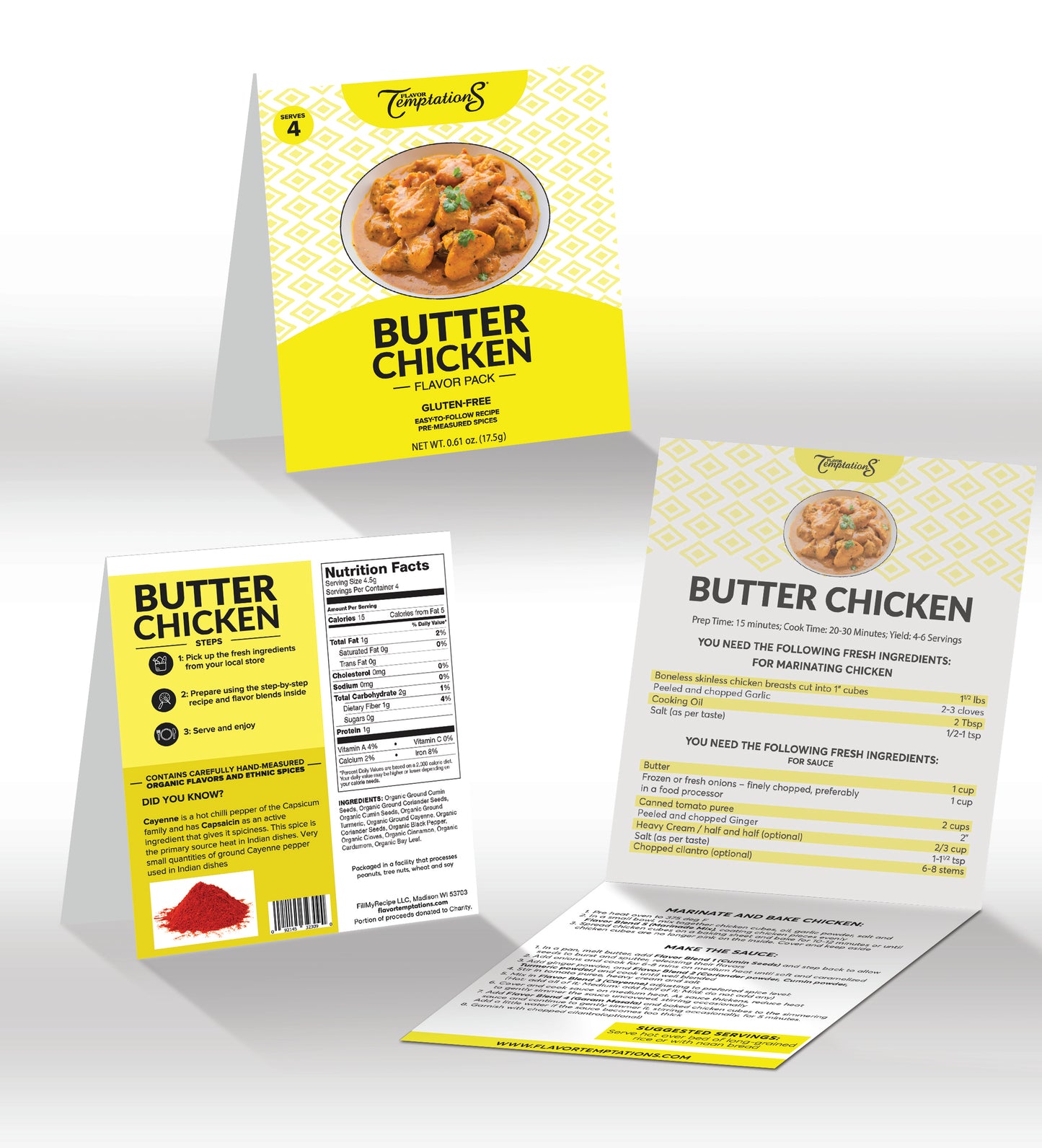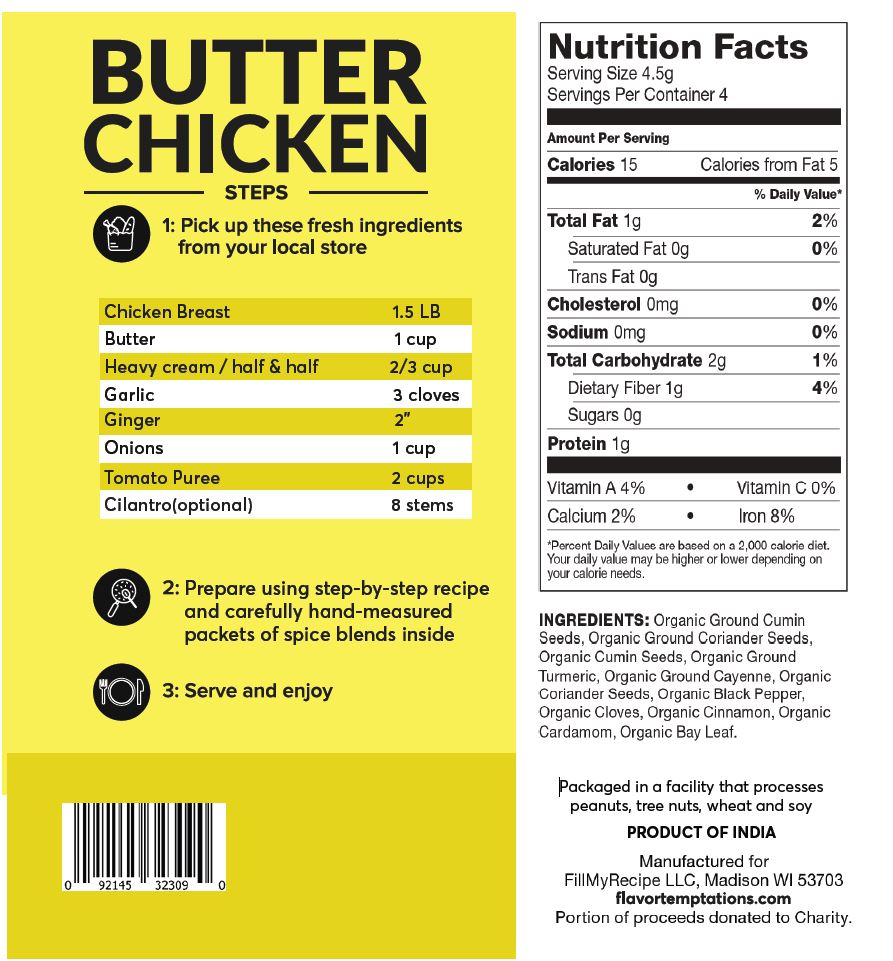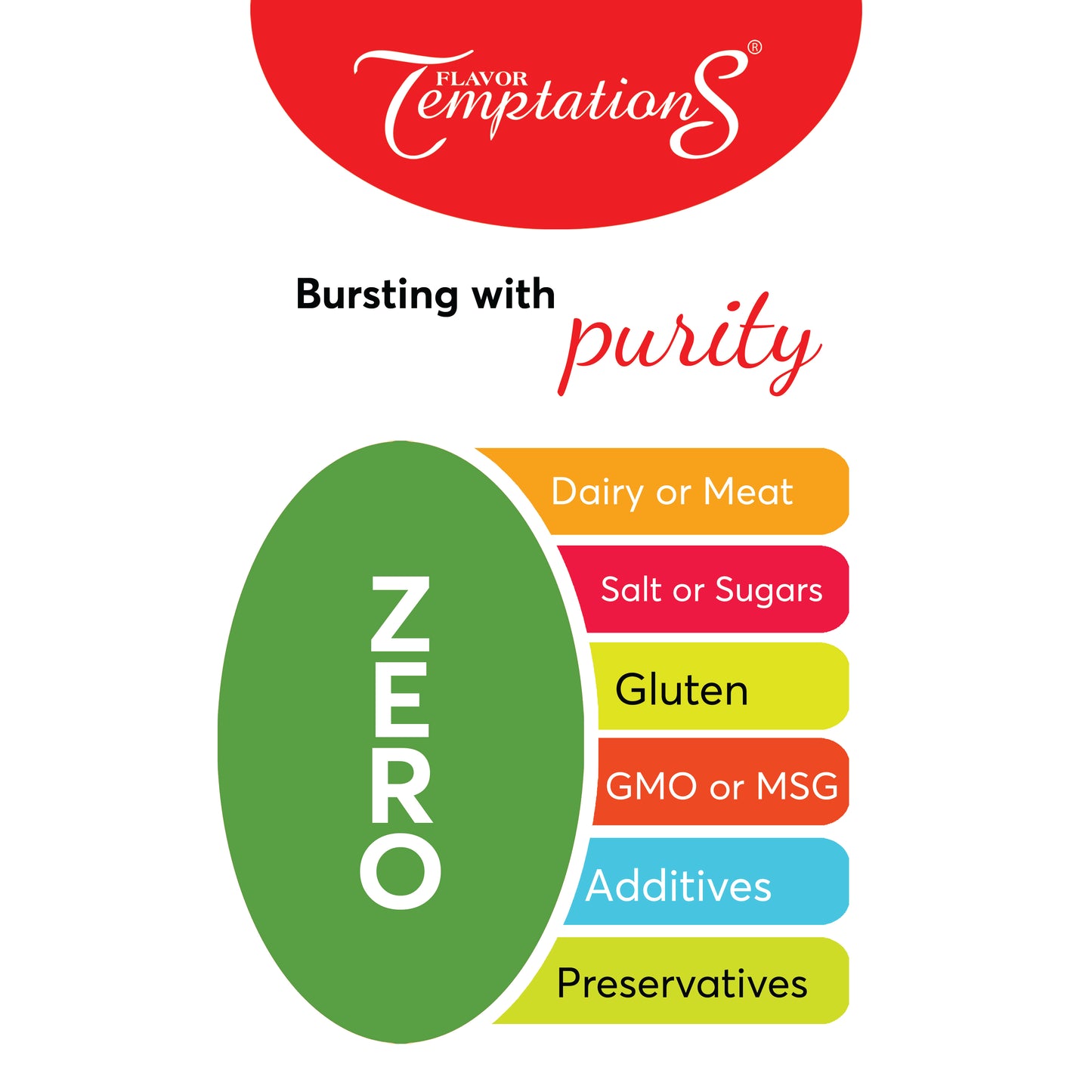 Delicious ingredients
I have been buying these spice packets for over 2 years. As soon as I run low, I reorder. My family loves the butter chicken, tiki masala and tandoori spice packets. The instructions for use are flawless and the spices create superb dishes. For flavorful meals don't hesitate to buy. You won't be sorry.
Easy, delicious, and smells so good!!!
You will love how your house smells while this is cooking - so aromatic! It will get your taste buds ready for the delicious meal you will create. So easy to make, but so exotic. I serve it with jasmine rice - chewier and more flavorful than regular white rice.
Makes the best butter chicken!
It's absolutely amazing that all you need to make authentic Indian butter chicken at home is this Flavor Temptations spice pack (with the recipe inside), butter, chicken, ginger, garlic, an onion and some optional cream. I loved that each spice blend flavor pack is perfectly measured, made without gluten, sodium-free (so you can add salt to taste), and includes the step-by-step instructions to build flavor! Cayenne pepper also is included in each pack so that you can decide how much heat you want to add (we added it all and it wasn't too spicy). This butter chicken was easily the best I've ever made, and it was extremely flavorful!! I can't wait to make it again sometime soon.
Answers to frequently asked questions
Where do you get your spices from?

Our spices are sourced from farms in Northern India and shipped directly to us
What is the shelf life of your spices?

Our spices have a shelf-life of 4 years
Why are your spices packed individually instead of just one blend, like some other brands?

The secret to authentic Indian cooking is the layering of spices. Some spices need to be toasted in oil, some added to the protein, and some added as garnish. Individually packing the spices allows you to truly experience the aromas of each spice blend as it is added